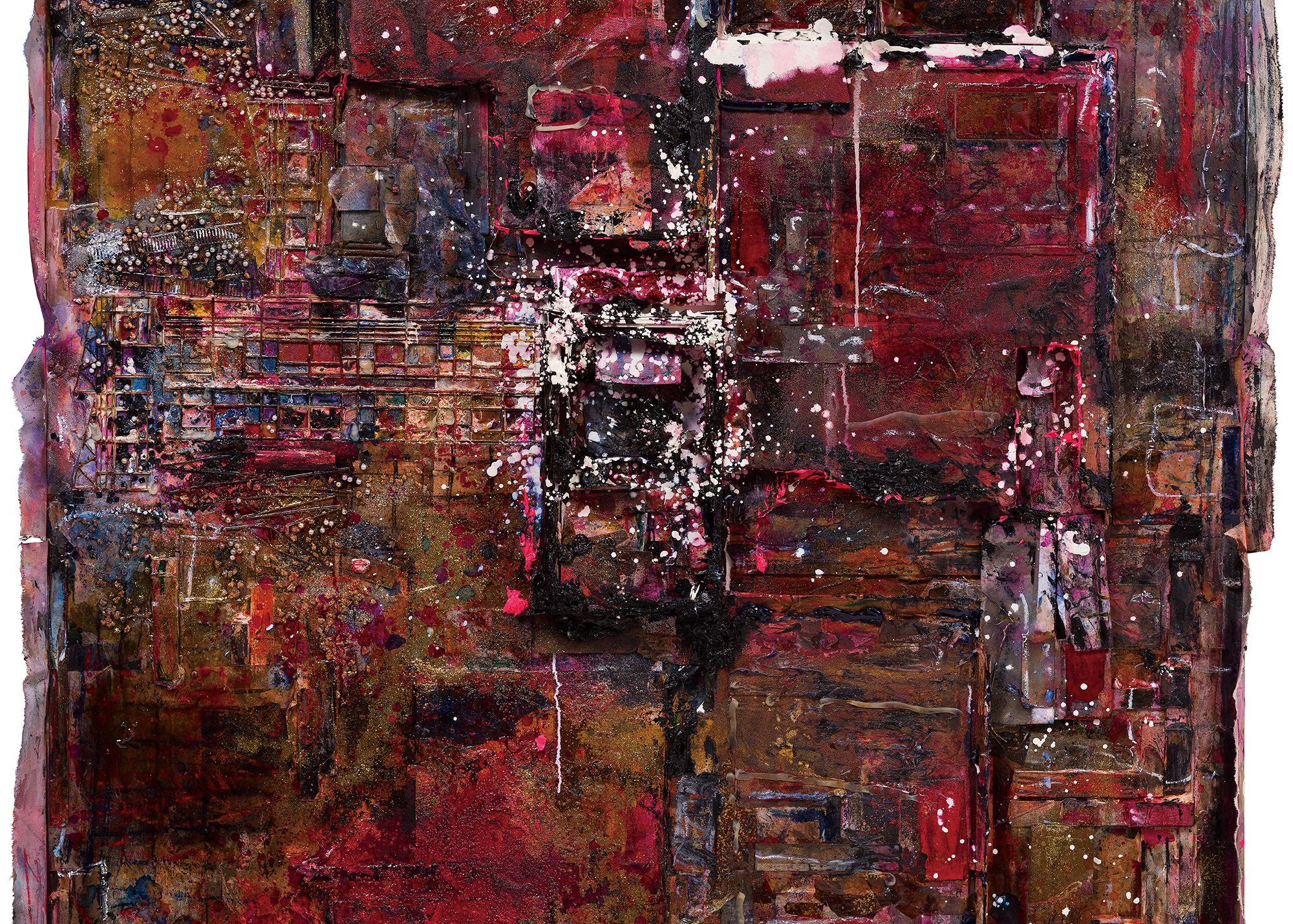 Since his spectacular debut in the early 1980s, Shinro Ohtake (b. 1955) has always been a lead runner with an exceptional creative urge, producing an enormous number of works ranging from painting, printing, drawing, sculpture, videos, and picture books to audio, writing, installation, and huge structures. He has earned an international reputation as a leader in contemporary Japanese art after his participation in the 2012 documenta, and the 2013 Venice Biennale.
The long-awaited exhibition presents under seven themes about 500 items including works shown at international exhibitions and is held at the National Museum of Modern Art, Tokyo that will celebrate its 70th anniversary in 2022. The artist utilizes every material, every image, and every method. While tracing his career that he has maintained for nearly a half century under a theme he calls "what's already there," this show presents his works, without sticking to chronology, in a way that enables viewers to be immersed in the world of his art, to offer an opportunity to travel inside his strikingly individual brain that keeps running.
The first major retrospective in sixteen years
The first major solo show after the 2006 Zen-Kei: Retrospective 1955–2006 at the Museum of Contemporary Art Tokyo provides a complete view of his nearly a half-century career.
Overwhelming scale and density
Presenting about 500 exhibits including his earliest works, those shown at recent international exhibitions, and latest works produced during the COVID-19 pandemic, the exhibition space will be packed with objets and sound ranging from small handmade books, huge cottage-shaped installations to sound emitted from works.
Special Corner Only at Ehime Venue
It's for the first time in Ehime where the artist lives that the exhibition realizes, and on this special occasion, we install a special corner in corporation with Uwajima city and Matsuyama city.
We exhibit for the first time the original work for "Nozokiiwa", the stage curtain work of "Pafio Uwajima" Hall and also that for "NETSU-KEI", the tent sheet work for the Dōgo Onsen Honkan bathhouse latter conservation and repair work.
Seven themes enabling you to experience the world of his art
Organized without sticking to chronology under seven themes—Self/Others, Memory, Time, From One to Another, Dreams/Retina, Layer/Stratum, and Sound—the show offers a space where viewers can be immersed in the world of Ohtake's art and experience his creative energy.
Same-day tickets can be purchased at the National Museum of Modern Art,Tokyo ticket counters, while online tickets with a designated date and time can be purchased on etix (https://www.e-tix.jp/shinro-ohtake/en/).
Admission
Adults ¥1,500
High School/College/University students ¥900
*All prices include tax.
*People over 65 age are \100 discount.
*People who have the Book List stamped with Ohtake Bunko Special Stamp which distributed at Pafio Uwajima , or the Dōgo Onsen Honkan collaboration ticket, each of the Ohtake Shinro Exhibition Dates.
*Group over 20 people \200 discount each.
*Admission is free for junior high school/elementary school students, and those with Disability Certificates and one caregiver accompanying each of them. Please present ID at the entrance.
*Including the admission fee for the Museum of Art, Ehime Collection Exhibition.
Shinro Ohtake
Born in Tokyo in 1955. Major solo exhibitions include Contemporary Art Museum, Kumamoto / Contemporary Art Gallery, Art Tower Mito (2019); Parasol unit, London (2014); Takamatsu Art Museum (2013); Marugame Genichiro-Inokuma Museum of Contemporary Art, Kagawa (2013); Art Sonje Center, Seoul; Hiroshima City Museum of Contemporary Art / Fukuoka Art Museum (2007); and the Museum of Contemporary Art Tokyo (2006). Group exhibitions include the National Museum of Art, Osaka (2018); the New Museum, New York (2016); and Barbican Art Gallery, London (2016). Among the many international art festivals in which Ohtake has participated are Hawai'i Triennial 2022, the 9th Asia Pacific Triennial (2018), Yokohama Triennale 2014, the 55th Venice Biennale (2013), documenta 13 (2012), the 8th Gwangju Biennale (2010), and The Setouchi Triennale (2010, '13, '16, '19', '22). He has also participated in such historically significant exhibitions as Against Nature: Japanese Art in the Eighties (1989), A Cabinet of Signs: Contemporary Art from Post-modern Japan (1991), and the 1st Asia Pacific Triennial (1993).
Artist website: https://www.ohtakeshinro.com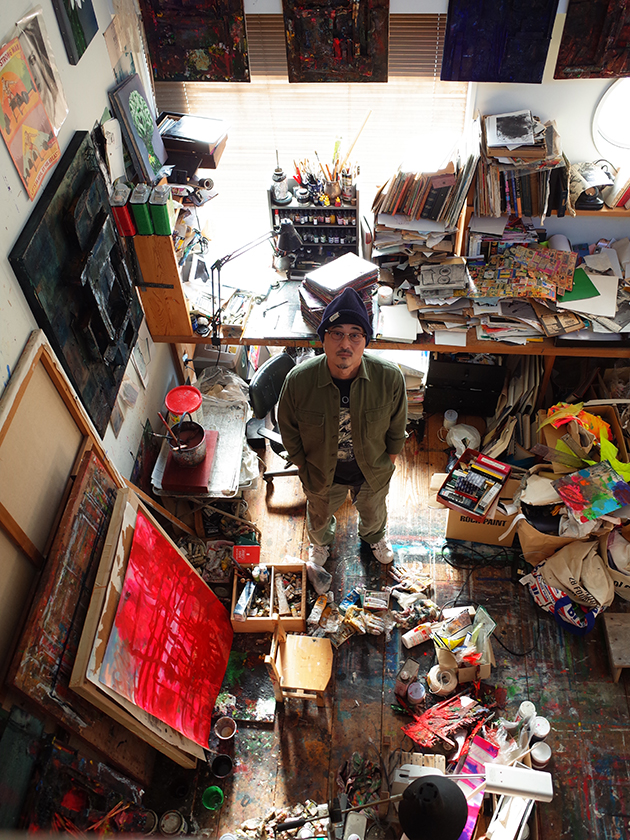 Shinro Ohtake
May 3—July 2, 2023
The Museum of Art, Ehime
Time: 9:40 a.m.—6:00 p.m.
*Last admission: 5:30 p.m.
Closed: Mondays (except June 5),June 6
Organized by: The Museum of Art, Ehime, The National Museum of Modern Art, Tokyo
Sponsored by: Benesse Holdings, Inc., Fukutake Foundation
Ehime Venue Sponsored by : The Ehime Bank, Ltd., Dogo Onsen Ryokan Cooperative, Sunmedical, Ltd.
NINO INC., Studio KOUYU Ltd., FUJITA INDUSTRY Co. Ltd., TM TOMIOKA Co. Ltd., A FACTORY INC., Dogo Shopping District Promotion Association
With the special cooperation of: TAKE NINAGAWA, Uwajima City, Matsuyama City, Community Development Implementation Committee for the Dogo of the Future
Address: Horinouchi, Matsuyama City, Ehime 790-0007
Transportation Access: 1 minutes walk from Minami-Horibata Stop, 5 minutes walk from Matsuyama City Station, IYOTETSU Railway.